When you want to work in Europe – including Estonia – there are different legal documents that you need. European Union countries like Estonia, Germany and Spain have all different demands and different documents for job seekers. But we are here to help! We have made a list of what documents you need to safely and legally work in Europe. When you have applied for a job via Hansawork and get a job interview, we will start organizing these documents together. Our recruiters and other specialists will always help you with each document!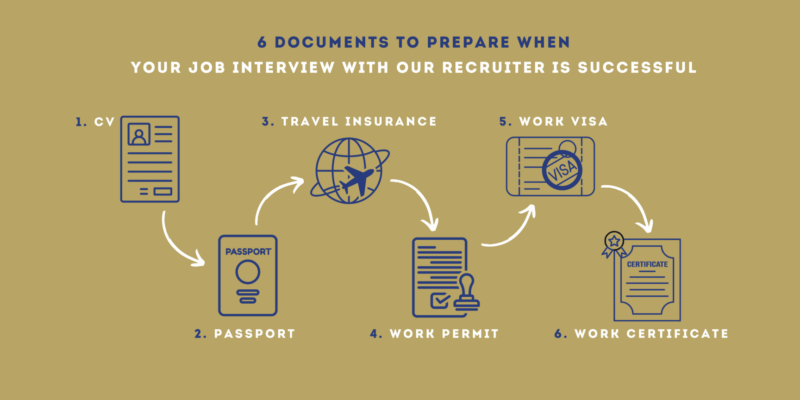 Document 1: After a successful job interview, our recruiter asks for your CV
Applied for a job on our job page, and now you get a call from our recruiter. What to expect? If our recruiter contacts you, be prepared for a job interview. They will ask you to talk about your work experience and can also ask questions about what skills you have. If the job interview goes well and the recruiter calls you back, be prepared to share your CV. The CV is a document where you have to write about your education, professional training, language skills and work experience. That is why our recruiter would like to have a look at your CV.
Be honest in your CV – do not add anything that is not true. Our recruiters understand that job seekers have different backgrounds and are always interested in each person's individual good sides.
Document 2: Passport
Your passport is necessary for international travel and working in Europe. Your passport must be valid for at least 6 months after your departure from your home country. For example, if your planned departure is on 01.03.2023 then your passport must be valid for 01.03.2024+6 months.
Document 3: Travel insurance
Travel insurance is required so you are able to apply for a work visa. Without a travel insurance you will not get a work visa. The travel insurance must be valid until the end of the visa period, i.e. for a year. You can choose a travel insurance from your home country insurance companies.
Document 4: Work permit
A work permit allows you to work legally in Estonia, usually for 365 days. Hansavest recruiter will help you organize it, you have to pay the cost: 65 euros. It takes from 15 working days to 2 months to get a working permit. The work permit will last for 455 days (15 months), during which work can be done for 365 days (1 year). To apply for the work permit you need to have:
a copy of every page in your passport
a portrait photo of yourself – you can take the photo on your phone. It needs to be with a white background
a personal phone number, home address, e-mail
The Estonian border patrol police may ask for additional documents, about your education and diplomas.
Document 5: Work visa
Work visa (a long term one) can only be given out to a person if the person has received a work permit. If you do not have a work permit, you cannot apply for this visa. The visa application is at the Estonian embassy, you have to book an appointment there in advance. You need to bring:
your passport
a portrait photo of yourself
100 euros(visa cost)
travel insurance document
visa application
The visa is issued for a maximum of 356 days.
Document 6: Work certificate
For the legal process to go swiftly and without any pauses, we are going to ask you for proof of employment. This can be any official document that shows that you have worked in your professional field. This way it is easier for us to prove to Estonian officials that you have worked in your profession before.