In 2016, Eduard and Roman from Dnepropetrovsk and Vladyslav from Kherson arrived in Estonia to work for Hansavest. Now they have  metal CNC operator jobs at JTK Power Finmec near the capital of Estonia – Tallinn. Here are their stories about living in Estonia, and working for Hansavest in a metal industry company.
CNC work opportunities in an Estonian metal company
The company JTK Power Finmec Estonia is one of our partners who employs CNC and other metal workers from Hansavest. JTK has many years of experience in mechanical processing of steel structures – cutting, bending, CNC processing, manual and robot welding, surface treatment. Medium tonnage large structures are made here, these very durable products must last even in extreme conditions. The products are manufactured locally from start to finish – they are made for the energy industry in Scandinavia and America.
"Hansavest has found us good CNC operators for many years. We are happy with the workers, who come here through Hansavest, because they know how to hire the people we need," says Finmec production manager Andrei.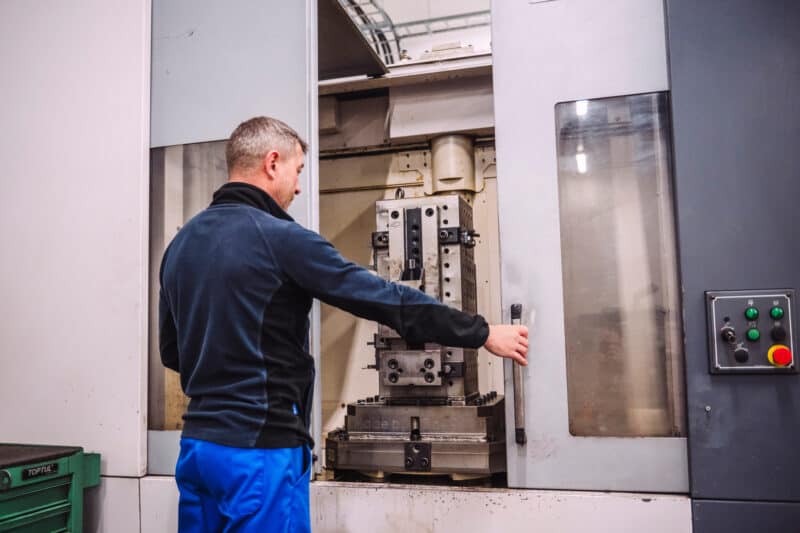 Why did they choose to work for Hansavest?
Eduard, Roman and Vladyslav considered working in Estonia when they wanted to improve their family's livelihood. "When my family grew and I got married for the second time, we needed to build a home," says Vladyslav. "I called the number given in the job advertisement of Hansavest, these people seemed capable of responsibility and I quickly made a decision, because I had previously worked abroad." Eduard and Roman heard about Hansavest from their former colleagues who were already working in Estonia. "I didn't want to leave home, but I had to," admits Roman, who hadn't been abroad much before. Eduard remembers that he was anxious when traveling to Estonia and stayed awake the whole long way. "At first I arrived in Latvia, everything was different there. The personal manager from Hansavest met me and drove me to Estonia. After that, I got used to it."
Hansavest guarantees workers housing, work clothes and an agreed salary. There have been no surprises that the job could disappear. "Everything is legal, the permits are in order. The personal manager always listens to the person," says Vladyslav. Roman adds: "There is no need to spend time looking for housing and getting settled. You don't have to live with a big group somewhere in a room with bunk beds, but decent living conditions are provided." Eduard experienced Hansavest's particularly supportive attitude when a member of his family had a difficult health situation. "It opened my heart. Hansavest is not just a company that brokers jobs. Here we think about the employee and his needs. Классная компан!"
What is it like to live in Estonia? Any surprises?
During their first summer in Estonia, the men were amazed by the white nights, when they can operate until late at night. "Our nations generally have a similar outlook on life," Roman has noticed. "In Estonia, the nanotechnology and electronics sphere is at a good level and there are plenty of opportunities. I'm already used to it. The nature is beautiful here, it's nice to drive around and visit the neighboring countries." Eduard likes to walk in Tallinn's old town and sometimes go to Pärnu for a vacation. Vladyslav and his wife spend their free days in museums, on the seashore and in Kadriorg Park. It is convenient that public transport in Estonia runs according to the schedule, the time and queue are respected.
"My wife was invited to a free Estonian language course and she also teaches me," says Vladyslav. If the Estonian expressions do not come to mind immediately, Roman makes himself understood in a mixed English-Estonian language. "I could also work in another field in Estonia, but then I would need to learn the Estonian language properly." When the factory is busy, they prefer to communicate in Russian. "Fortunately, the locals don't laugh at my knowledge of the Estonian language," adds Eduard. He has not yet decided whether he would really like to live in Estonia: "The future will show what thoughts will come." He appreciates the fact that Hansavest also found a job for his wife in a woodworking factory and helped to rent a separate apartment for the family. Vladyslav's adult children also recently arrived in Estonia. "I have helped my children buy apartments in their homeland and they hope to return home, no matter what. But my wife and I want to live our pre-retirement years in a society with more order. We are currently renting an apartment offered by Hansavest and I am applying for a loan to buy my own apartment in Estonia." When Roman arrived in Estonia, he thought that he would work here for a short time and now discusses: "Over the course of five years, I have had opportunities to really establish myself in Estonia in, but for me home is still in the country of my birth."
Why stay and work in Estonia?
"I am very grateful to Estonia for allowing us to work here," says CNC operator Vladyslav, who worked as a lathe operator in his homeland. "If something changes in production, the worker will still be given opportunities to make a living here. In Estonia, I am sure of my future and the salary corresponds to my contribution, I can live." "Fortunately, there is a lot of work. I just came, looked and settled down. I did as explained. There were good impressions. With each order, I learn something more about standards and drawings." Welder Roman was previously a locksmith-fitter. "Former colleagues explained everything to me at first, now we work together and help each other. It is also good to work with Estonians, we understand each other. I have recommended many people to come to work in Estonia. My brother came here and some friends too. Everyone is happy and no one has complained."
They did not worry when they came to work in another country, because the work methods are similar to some extent and it is possible to get to know the specifics of each company. When asked what could be better in the factory, after much thought, they answer that the air cleaning systems in the workplaces could be further improved.
The workers' personal manager Martin often hears good things about Hansavest from the workers. According to him, Eduard, Roman and Vladyslav are very hard-working employees and cooperation with Finmec is going well. "We react quickly to changes in our company and we are trusted. For example, during the restrictions, our work did not stop," explains production manager Andrei. "The equipment is modern, we are currently in the process of renewing the mechanical engineering and increasing the production efficiency of the factory. We are planning to build a new production building and we need more employees. There is no need to be afraid. You have to come here to try it if you have already worked in this field for a while and you are familiar with the manufacturing field. Our team is friendly and we gladly welcome new employees."